As the title say, I received the 1 Year award since I registered successfully my beloved account & username.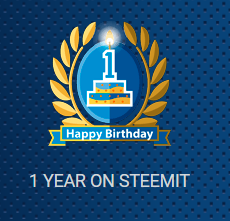 It has been a long trip as I feel that I'm not the same.
I spent this whole year more involved than ever with blockchain tech, different cryptocurrencies and communities.
Definitively a lot of interesting stuff happening everywhere. I think we are witnessing the start of a very big change. The beginning of the end of the 'old' system.
After these long bearish months, I feel more confident than ever to start building again my Steem stack.
Steem on.